What Is Ionithermie?
IONITHERMIE is an anti-cellulite detoxification treatment product line developed in France in 1978. Backed by solid scientific research and clinically proven technology, it delivers immediate visible results.
Ionithermie is an exceptional clinically proven treatment to:
Provide immediate, visible and measurable inch loss
Reduce the appearance of cellulite
Firm, tone and re-sculpture the body
Smooth and tighten the skin
Detoxify at the cellular level
Increase circulation and increase energy
The Ionithermie treatment system uses its proven methods to transdermally deliver the products and engage the underlying physiological systems to provide exceptional results and loss of inches.
You can rely on Ionithermie's proven results and commitment and support to surpass your expectations.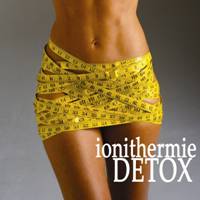 Ionithermie is a cosmeceutical treatment that detoxifies the body at the cellular level. The treatment gives immediate, sustainable, clinically proven loss of a combined 3 to 6 inches or more of circumference (e.g., of waist plus hips plus thighs) per treatment. More than 1 million treatments are performed annually worldwide.
WELLNESS DETOX / FLUID RETENTION
A great flush treatment for those suffering from fluid retention and toxic buildup.
Ionithermie provides relief for lower back and joint pain by flushing out lactic acid built up in muscles and fluid retention
from long periods of sitting and poor circulation.   Perfect for arthritis sufferers, golfers and athletes.
Boosts body's circulation and provides a feeling of well-being.
FIRMING & TONING
An excellent treatment to firm and tone the muscles, lifting slackening areas and flattening the abs.  Stimulating Ionithermie treatment improves micro-circulation to encourage cellular renewal, and protein-based firming creams produce immediate skin-firming results.
ANTI-CELLULITE / INCH LOSS
A body-contour program designed specifically to target the problem areas associated with cellulite.
Stimulating  Ionithermie  treatment will smooth the skin's surface and significantly improve its "cottage cheese" look
by removing toxins at the cellular level.   An increase in circulation and muscle tone will provide immediate, sustainable
loss of a combined 3 to 6  inches or more of circumference per treatment.
For maximum results, consultation for a personal program will be provided.
~~~~~~~~~~~~~~~~~~~~~~~~~~~~~~~~~~~~~~~~~~~~~~~~~~~~~~~~~~~~~~~~~~~~~~~~~~

What is cellulite and what part do toxins play?
Recent medical studies have shown that cellulite and its "orange-peel" texture is caused by the following:
The accumulation of toxins in the spaces between the skin's cells (in what doctors call the "extra-cellular matrix"). These toxins are made in the skin's connective tissue due to pH changes.
A decrease in micro-circulation in the capillaries of the skin, which helps remove the toxins and by-products of the cells' metabolic processes.
An increase in fluid held in the adipose (fat) tissue.
An increase in the number and size of the fat cells.
An increase in the thickness of the fibrous "bands" anchored to the skin through the adipose tissue. These can be thought of as being like the buttons on a mattress or a sofa cushion, where the thread anchoring the button through the fabric causes an indentation below the surface, but the remainder of the surface is raised.
What is Ionithermie and how does it detoxify?
Ionithermie is a treatment invented four decades ago by a French biochemist.
It involves the use of a hand-held device that transmits two gentle forms of low-level electrical stimuli through a conductive clay.
The treatments are provided in spas, salons and physicians' offices across the nation, by certified Ionithermie therapists.
Ionithermie has been proven in independent clinical studies* to:
Detoxify the extra-cellular matrix through a process biochemists term "electrophoresis," in which low-level e-stim carries positively and negatively charged particles through a substance.
Introduce all-natural products into the fatty tissue layers of the skin, resulting in "lipolysis" (the breakdown of fat tissue).
Cause gentle electro-stimulation to the underlying muscles in the area being treated to help tone and sculpt the area. (You may have experienced this type of muscle treatment in a chiropractor's office or during physical therapy.)
Stimulating circulation, resulting in better health.
Result in an immediate and sustainable loss of 5-11 inches per treatment
* Studies were carried out in France in 2001 and in the U.S. in 2005.
No injections are required with Ionithermie treatments.
How many Ionithermie treatments will I need?
For immediate inch-loss and preliminary detoxification: 1-3 treatments.
For early stage cellulite and moderate detoxification with inch loss: up to 5 treatments.
For advanced cellulite and aggressive detoxification with inch loss: up to 10 treatments.
What areas can be treated with Ionithermie?
The following areas show excellent results:
Hips, knees, thighs, arms, buttocks and bust.
Is Ionithermie for athletes?
Yes! Many use the Ionithermie system to firm and tone their abdominal and waist areas. Additionally, many athletes use the treatments to relieve sport-related muscle tension, aches and pains.
What can I expect during my treatment?
Your certified Ionithermie practitioner will explain each step of your treatment to you,
but basically, the treatment involves the following steps:
Your therapist will ask you several questions – some medical conditions may contraindicate the treatment.
Your therapist will prepare your body for the treatment by dry-brushing your skin in the area of treatment and applying several all-natural products to your skin.
The areas of treatment will be covered with a warm all-natural clay, which helps conduct the stimuli.

Your therapist will then turn on the hand-held machine, at a low level, and begin to introduce the current.

Your treatment will last approximately 30 to 40 minutes. The therapist will stop the machine and remove the hardened clay. (It is not necessary to shower.)
After your treatment, a moisturizing lotion will be applied to your skin.
Fees:
Single Treatment $225
First Trial Treatment $150
Series of 10 Treatments $1,935